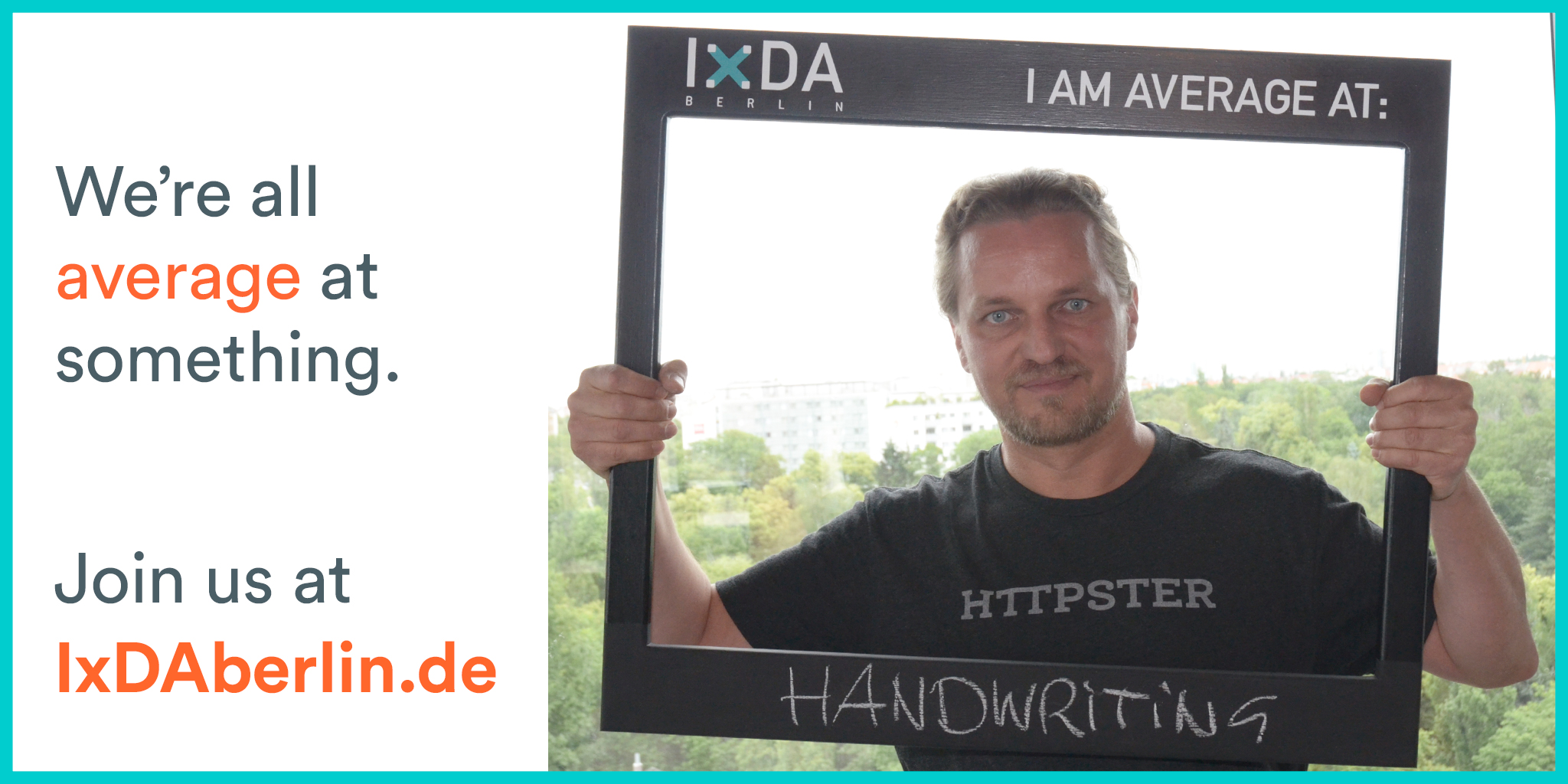 Interaction Design is common ground for design sectors focussing on Services, Strategy, User Experience, Product and much more. Together with Thomas Kueber, Audrey Liehn and Kathryn Hing I do have the pleasure to nurture and grow a local chapter of the Interaction Design Association (IxDA). IxDA Berlin convenes the local community of experts in related areas, together with students, novices, and all other parties interested in thought exchange and driving this design discipline forward.
At our frequent events, we present renowned international speakers and host discussions among the protagonists of Berlin's vivid Interaction Design scene. Partnering with the industry and design schools, we constantly challenge ourselves to expand the communities horizon beyond established design paradigms. We believe that evolution comes from the community.
"Being average is what makes you normal. Let's appreciate it."
Our own Kathryn came up with a concept she named the "Wall of average" a while ago. Thinking of ways to emphasize on IxDA Berlins mission statement, which includes a strong focus on non-experts to the field, to students, newbies, and interested people from other professions, we came to the idea of translating that initial concept to our community.
We envisioned a frame a person can hold and peek through. The individual average goes on the frame – using chalk. At our events, you can find a photographer that is happy to get you pictured in the "FOA". And we had some quite funny results when we tested the FOA in the wild for the first time back in June!
Starting today, IxDA Berlin is beginning to post a series of pictures taken at our events, capturing our beloved community members together with their averages. Our goal is not only to capture memories of our events and give back to the community. By sharing the images across social networks, we also hope for people to relay our call to action, to join our events, follow us along, and contribute to all of us learning.
I am super-curious for all those FOAs to come in the future!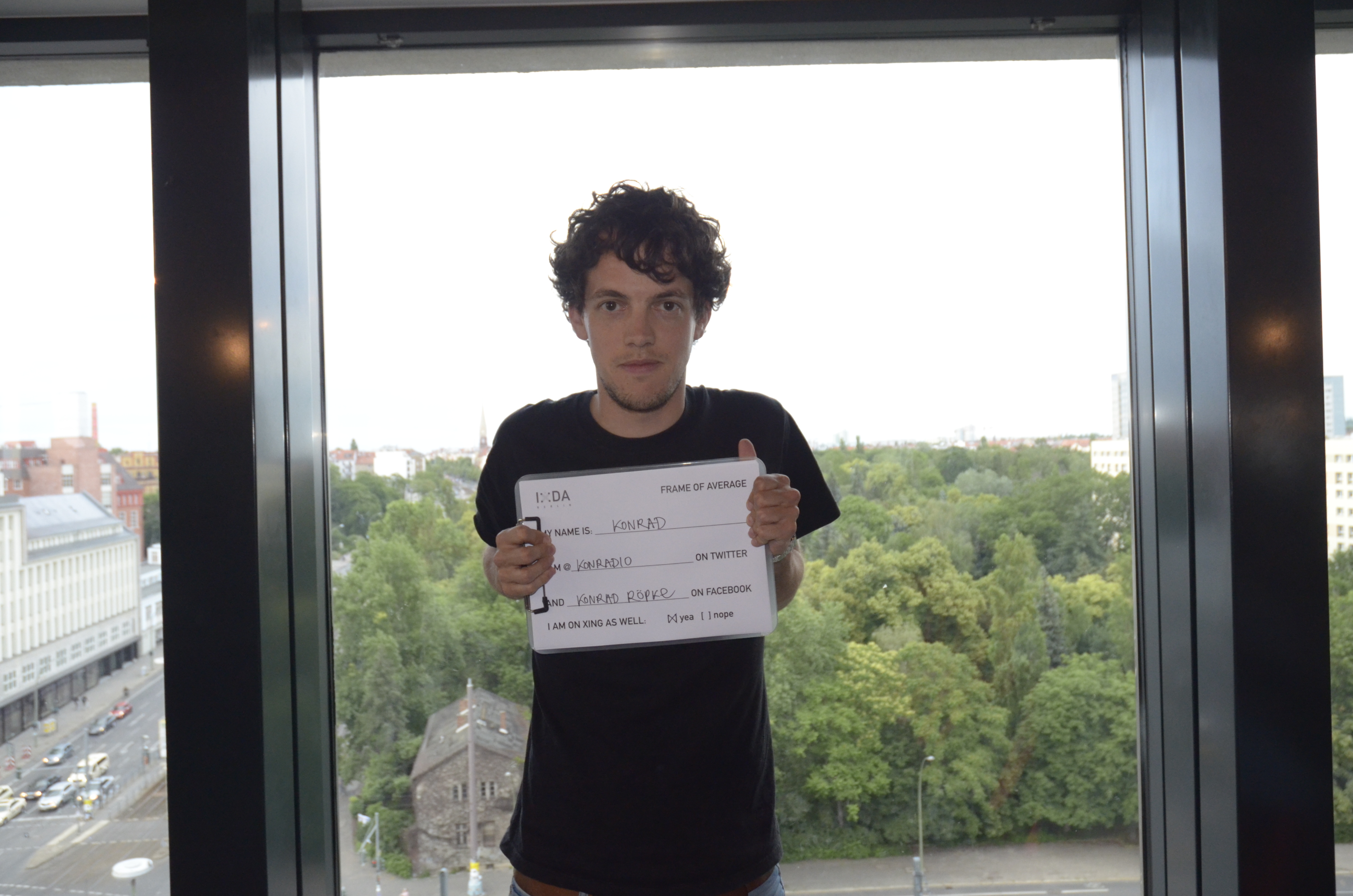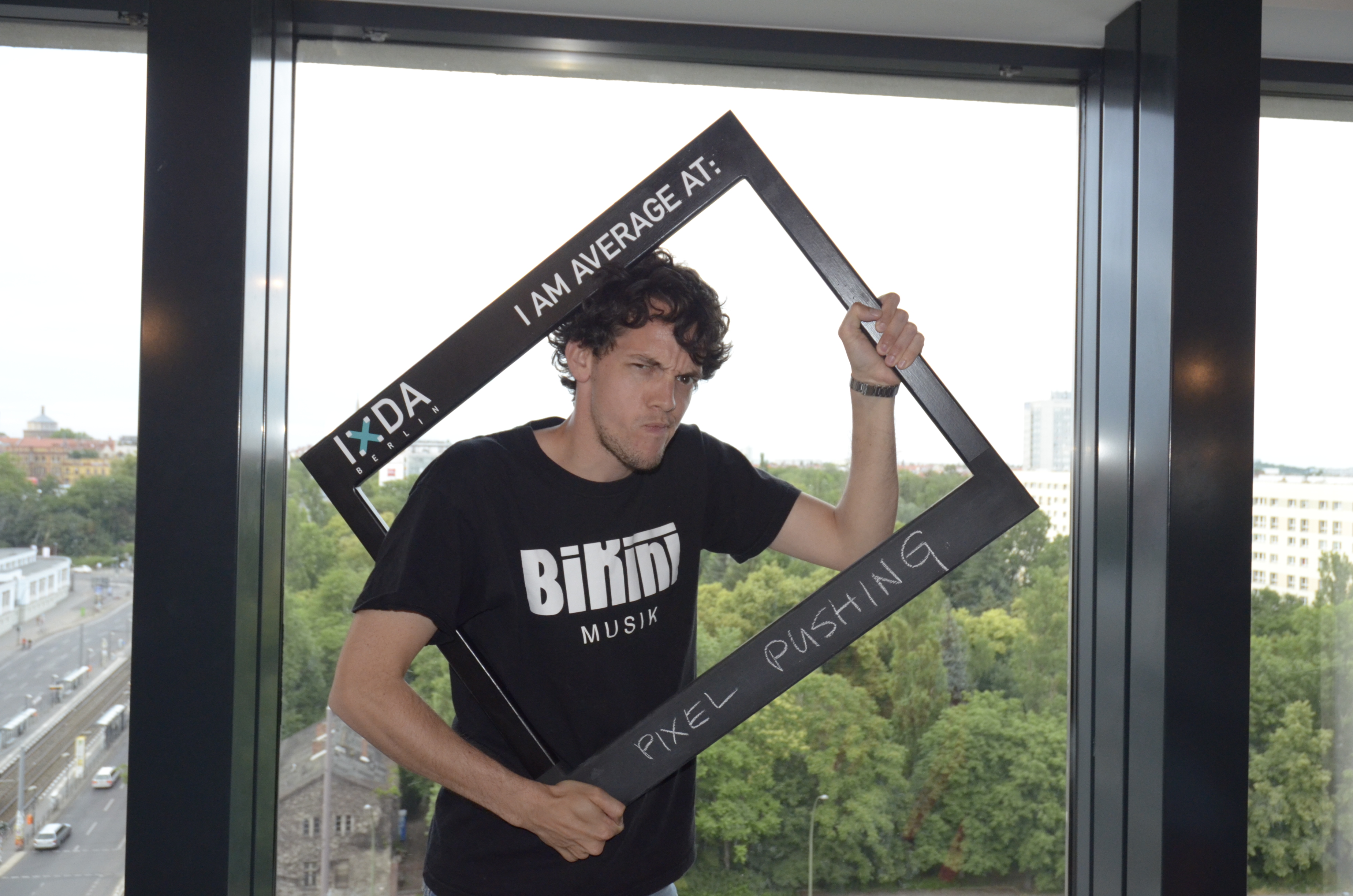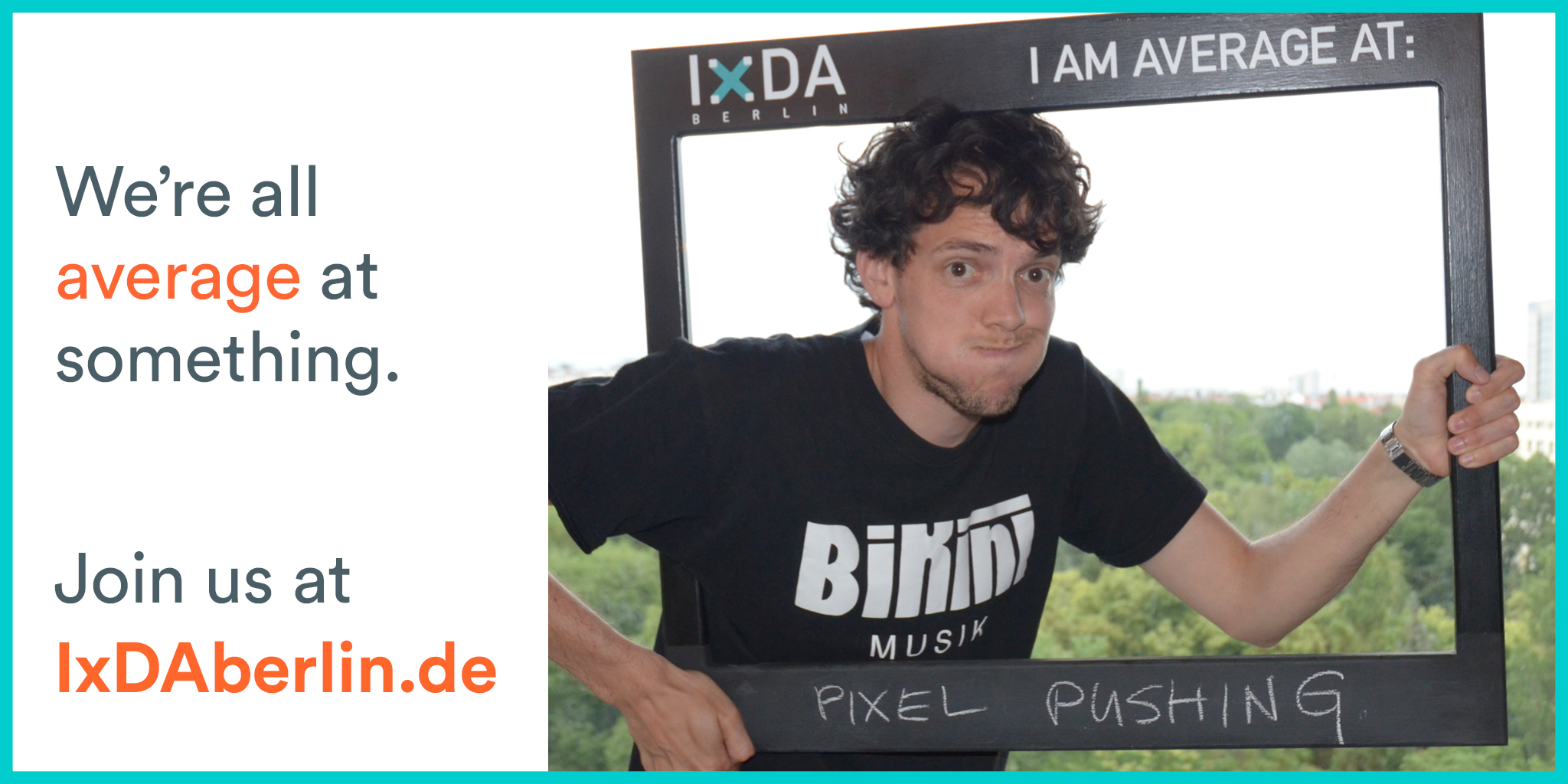 UXcamp Europe in Berlin is among the top events worldwide in this segment, and I am super-stoked to attend together with my man Demian! We'll be providing sessions and, more importantly, workshops, for those that are totally amazeballed about Adobe XD (former "Project Comet"), but simply did not have the time to check it out in production yet. And to capture feedback and requests! Well and since UXcamp is happening over the European Championships, let's take brazilian Demian over to some public viewing and make him forget – or remember? :D – the 7:1 when Germany wrecked the Brazilian Team in 2014… :D
Over the last couple of days I've hunted the Adobe calendar and stolen some time from my teammates in the XD team. Check out what they have to say!
When you're running a device lab to test across a variety of internet connected (mobile) devices, a wireless local area network will be your primary way to hook up your gear to the 'tubes. When you're taking that device lab rather seriously and you're testing across, let's say, more than 30 devices, you will quickly run into a problem: your WiFi.
Don't believe the tech spec hype
Some manufacturers publish tech specs stating the maximum connections their access points are capable to support. Yes, most don't even do that (or talk about the "number of people that can share the same internet connection"), and there is a reason for that. These numbers might be true in some ideal scenario (like: all connected devices using the same chipset, behaving in mixed conditions (some idle, some active), all in vital shape), but having tested a number of these SoHo-style devices we all tend to use at home and in small and medium businesses, I can tell these numbers are very optimistic. At least for the use case we're after, and that, to be fair, might not be the scenario the manufacturers meant when they published their numbers:
The use case is a tough one
Synchronized browsing, used in web development to easily preview and debug code in production across a farm of devices, implicates X devices calling the same URL at more or less the same time, sometimes several times a minute (code, preview, debug, refresh). There are a lot of variables to take into account and a lot basically "depends" as a rule of thumb around this topic ;). For illustration purpose imagine the traffic produced by 50 devices calling a webpage with 30 requests and a 0.5-1 MB pageload, refreshed continuosly – do the math. That is most likely not what the makers of that WiFi-gear had in mind when they were talking about the number of clients.
I cannot find gear that is suitable for the above scenario and affordable for individuals or small and medium businesses, that run (non-for-profit open) device labs. The available product documentation is not comparable (enough). I know there is superexpensive gear used for permanent installations or at events, but this is not even close to the budget range of what I am looking for. I am not a wireless networks expert, and most of the people would agree this to be a black box to most of the typical web or app developers. And the experts I asked also only know the superexpensive gear (and actually don't know talk too precisely about limitations with the above use case).
There seems to be a huge gap between 30-300 Euro-ish SoHo-style devices and 6000+ Euro-ish gear. Is there an affordable solution, somewhere inbetween?
Call to action
I know that a ton of people is looking for a solution, so this blog post is to find out. Please help, point people that could know more than us to this post, and share knowledge via a comment. If you run a device lab and found gear that does the job, please post your experience and suggestions. If you combined a set of APs to a working solution, please post the details here (I'd prefer a single device for a number of reasons, but, anything is better than nothing).
Thank you!
Update (May 29, 2013 – looong overdue looking at the number of feedback I have received via Twitter and E-Mail in the meantime, my apologies!):