When you're running a device lab to test across a variety of internet connected (mobile) devices, a wireless local area network will be your primary way to hook up your gear to the 'tubes. When you're taking that device lab rather seriously and you're testing across, let's say, more than 30 devices, you will quickly run into a problem: your WiFi.
Don't believe the tech spec hype
Some manufacturers publish tech specs stating the maximum connections their access points are capable to support. Yes, most don't even do that (or talk about the "number of people that can share the same internet connection"), and there is a reason for that. These numbers might be true in some ideal scenario (like: all connected devices using the same chipset, behaving in mixed conditions (some idle, some active), all in vital shape), but having tested a number of these SoHo-style devices we all tend to use at home and in small and medium businesses, I can tell these numbers are very optimistic. At least for the use case we're after, and that, to be fair, might not be the scenario the manufacturers meant when they published their numbers:
The use case is a tough one
Synchronized browsing, used in web development to easily preview and debug code in production across a farm of devices, implicates X devices calling the same URL at more or less the same time, sometimes several times a minute (code, preview, debug, refresh). There are a lot of variables to take into account and a lot basically "depends" as a rule of thumb around this topic ;). For illustration purpose imagine the traffic produced by 50 devices calling a webpage with 30 requests and a 0.5-1 MB pageload, refreshed continuosly – do the math. That is most likely not what the makers of that WiFi-gear had in mind when they were talking about the number of clients.
I cannot find gear that is suitable for the above scenario and affordable for individuals or small and medium businesses, that run (non-for-profit open) device labs. The available product documentation is not comparable (enough). I know there is superexpensive gear used for permanent installations or at events, but this is not even close to the budget range of what I am looking for. I am not a wireless networks expert, and most of the people would agree this to be a black box to most of the typical web or app developers. And the experts I asked also only know the superexpensive gear (and actually don't know talk too precisely about limitations with the above use case).
There seems to be a huge gap between 30-300 Euro-ish SoHo-style devices and 6000+ Euro-ish gear. Is there an affordable solution, somewhere inbetween?
Call to action
I know that a ton of people is looking for a solution, so this blog post is to find out. Please help, point people that could know more than us to this post, and share knowledge via a comment. If you run a device lab and found gear that does the job, please post your experience and suggestions. If you combined a set of APs to a working solution, please post the details here (I'd prefer a single device for a number of reasons, but, anything is better than nothing).
Thank you!
Update (May 29, 2013 – looong overdue looking at the number of feedback I have received via Twitter and E-Mail in the meantime, my apologies!):
Thanks for all your support and feedback on my recent post on the need for a proper multidevice stand for mobile web development. Awesome people sent in their solutions or suggestions for such, and I want to thank each one of you in helping all of us to make improve the mobile web by improving the necessary tools.
This post is to gather them in one place (with images and links enabled), numbered, to have you guys discuss them – comments wanted!
---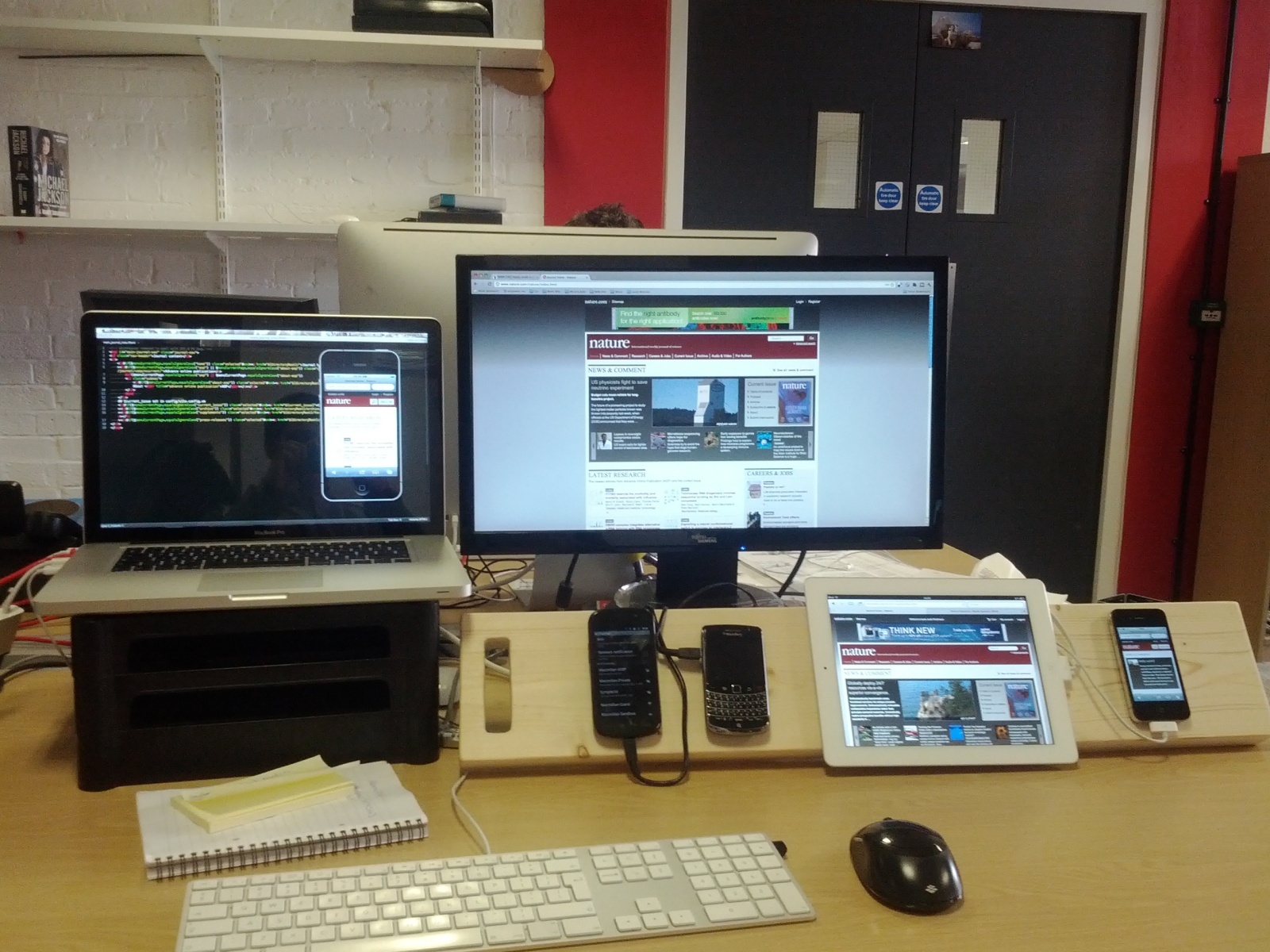 #1 "The Plank"
Glynn Phillips sent a picture of "The Plank Mark I" along with these comments:
"So maybe not quite as advanced and technical as the above mentioned but one day by boss turned up with what is now own as 'The Plank'. Power supply is attached to the back which also acts as a stand to keep the devices at a nice level to use and see. The devices are held on via velcro. I present to you The Plank Mark 1. Yes some improvements are required around its flexibility."
I would say it's a bit unflexible in terms of device orientation. But this is just my 2 cents.
---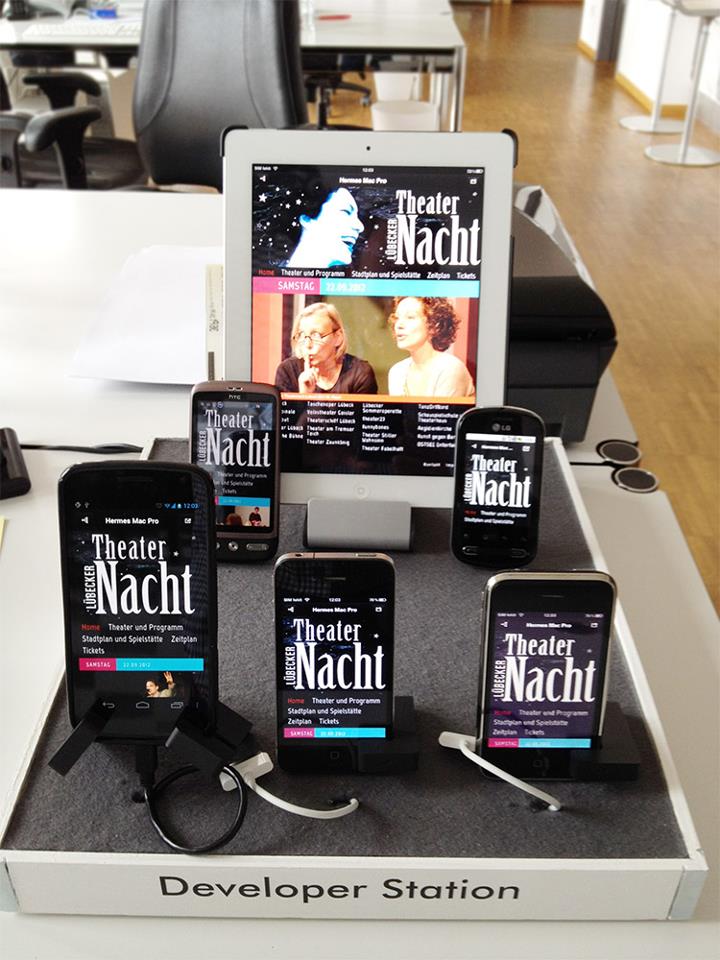 #2 "Developer Station"
Sven sent a picture of his "Developer Station" which looks like a wooden frame with a carpet platform, holding several devices with plastic clamps and standard proprietary stands.
It also holds the charging cables and keeps them in place through holes cut into the bottom tray.
From my eyes this again is suboptimal when it comes to orientation changes, and I wonder if charging actually works with the devices upright?
It is a good starting point to actually keep all the stuff together in one place, and move it from desk to desk without a bigger hassle.
But is it also flexible enough for project-specific changes in the device test farm? I'd say: no.
---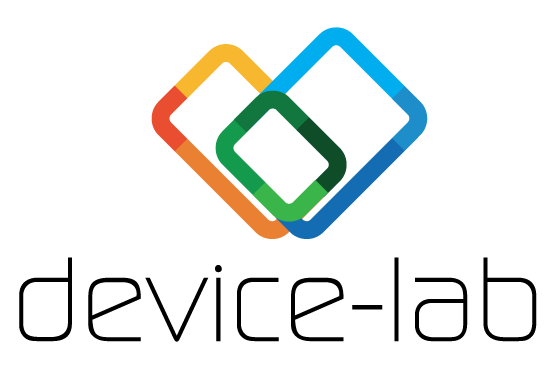 #3 "Device Lab"
Switzerland based Vanamco has put on a website announcing a commercial solution named "Device Lab" over the past days (this edit is from September 18, 2012). They had some more details on the page, e.g. stating details like maximum 10 devices, small footprint on desk, 10-port USB-charger included, etc. – but took off these details when I last checked the site.
Would be interested if these guys got inspired by my original tweet or post. ;)=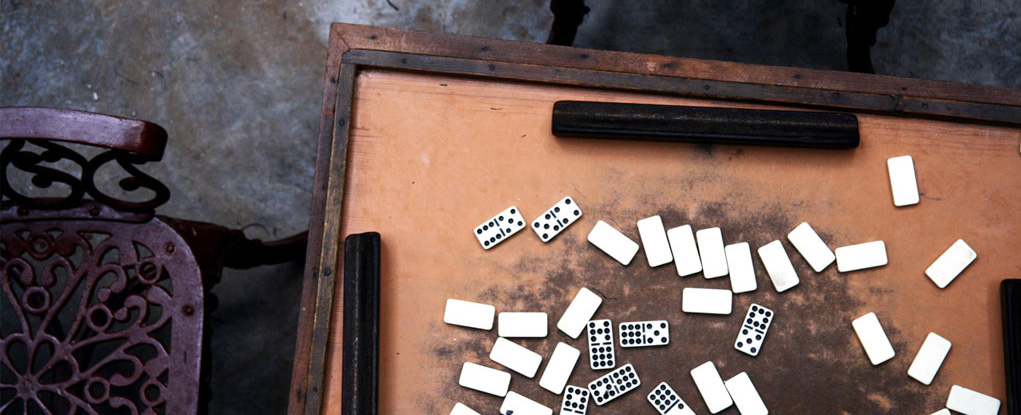 I love building stuff. The majority of my life I spent with drafting ideas, constructing prototypes, engineering a result and working on marketing and business models and workflows.
Whether this has been soldering electronics, working on radio controlled aircraft and submarine models, writing songs and producing music or in the software and web landscape, building my own companies or working freelance or employed. I just love to nurture an initial idea over the whole process and am excited like a kid on christmas when the final thing ships.
This blog is no exception of that rule.
Anyhow, times change, and when it comes to the web and especially the mobile web, this change is tremendously fast and definetely more of the ever-in-process style. People were already talking about topics like responsive images and mobile first coding and content delivery approaches more than a year ago, but even today at best there is a number of great guidelines – but no compact and mature best practice to follow.
By the time when I started talking to Sebastian on my design ideas for this blog we have been able to take some concepts such as the Goldilocks approach into account, so we did. Other stuff like the awesome Cicada Principle didn't work so well with my stubborn visual plans. And there are a lot of other things I would approach differently when I would start building this blog today.
Must have been crazy even TRYING to build a photorealistic wooden bkgrnd using a high number of cicada tiles. Maybe I try again tomorrow.

— Andre Jay Meissner (@klick_ass) Juli 5, 2012
Anyhow, I am not getting paid for building websites nor will I face consequences and fall into disgrace like things should be when somebody delivers shitty code to a high-traffic ubiquitous web service. I can either go on and fiddle around on the code of this blog, and most likely will not have it published forever. Or just remove the majority of the stuff I haven't been able to finish yet, so it doesn't break this site, and just push the damned thing out – today.
Regardless of the numerous flaws I see. Painful to do, somehow, I confess. But I put the ability to post content over my selfish eagerness for code quality. Yes I do. I don't suffer enough from the fact that my current job doesn't leave much room for hacking real, productive code – so I can take that burden as well. YES!
(No I can't. If I could I wouldn't write this post, right? Haha!)
So here's the list of noteworthy things I want to improve as soon as I find time:
(…actually this already reminds me a bit of a website of mine crafted 10 years ago, up on the web – and unchanged since then… ;))
Responsive Images. This one clearly ate away most of the precious time I was able to allow to myself to create this blog. I built a solution based off a solution Jordan Moore described earlier this year, but I will not be pleased with the situation until much more fundamental improvements have been made to the state of the web, to actually be able to come up with an appropriate solution (and not just a funky workaround). So I kicked out what I had and decided to go with ReSRC.it's amazingly simple cloud based solution instead. ReSRC.it is beta at the time of writing, so I expect outages and bugs. Whatever, that would have been quite the same with my solution. ;) And because ReSRC.it did uncover some "slight oversights" ;) when I integrated the solution into this blog I needed to remove it as well, so actually there is no responsive solution active in the very moment and all of you nice mobile clients have to eat the full ballast of retina quality images. I know it's brutal for the moment, but it will be solved soon.
Finish SVG implementation. See all the nice ornaments? Currently these are PNGs, which represents the failover for stupid browsers not able to render SVGs. I just didn't find the time to add the SVG sprites yet (except the social media ribbon in the upper right). TIME. I. NEED.
Pagenav can be ugly. My favorite ornament wraps around the page navigation on the bottom of every page (different on mobile, though). Currently it's a bit odd looking, since there are not many pages to navigate to (which will be the case forever on seldomly used tags). Not priority one, so postponed.
Mobile first not implemented right. As Brad Frost describes in his excellent tutorial, I should have engineered shared CSS definitions first, and then apply changes as long as required for larger screens. Stupid me. This would have clearly resulted in much smaller CSS for this site.
Responsive Twitter Embed without JS. Okay, I don't really know how long I will be on Twitter anymore, but that's another story. For now I have been forced to remove a direct style width:500px!important applied to the <div> that contains embedded Tweets, so that these embeds do not break my mobile designs. Pretty lame Twitter does not let us control this, anyhow pretty lame on my end I wasn't able to find a way to parse it out inside WordPress' oEmbed functionality. Yes I tried this fix but even with serious tweaking I couldn't make it work.
Actually this reminds me of the fact that the ribbon on the upper right misses my app.net link…
Responsive Image Galleries. Currently I use NextGEN Gallery, which still seems to be the most advanced image gallery plugin for WordPress. Unfortunately it doesn't even think of responsive support, but I suspect this to change sooner or later. Until then gallery images are 72dpi only (NGG keeps the original so there's light at the end of the tunnel).
Webfonts fallback. Yup. Sucks to have a browser that cannot display Webfonts, right? ;)
Use DataURIs and other performance optimization. Well, finally there is a good bunch of improvements open in terms of reducing requests and pulling in external stuff. I know I know. Again, as soon as I find some time…
So far on waving hands and the foreword. Now, happy to be live and to start adding more content. ;)
Hope you enjoy!
*Jay