Open Device Labs (ODL) across the globe usually communicate via a special Google Group, in digested form via LabUp!'s infrequent newsletters, or direct, e.g. via Twitter. On October 26, 2013, for the very first time a number of ODL managers physically met in the lovely city of Nuremberg. To exchange knowledge on how to run and maintain an ODL, present best practices in legal, PR and marketing, and discuss, how the communication of the Open Device Lab idea and the common goals could be pushed forward with joint efforts.
Attendees and a heads-up
Speaking about joint efforts, and to set the scene for some of the following work results, it is quite important to realize who actually participated in this meeting. A portion of the topics discussed and best practices expressed definetely do not apply to other areas of the world (outside Germany or Europe), as in nearly all legal- and tax- and also clearly some cultural issues brought to the table.
Here's the list of representatives present that day. All global ODLs have been invited but of course not everybody could make the travel (hope to see you guys next time!):
Joschi Kuphal (ODL Nuremberg)
Ingo Kasch (ODL Nuremberg)
Marc Thiele (ODL Dusseldorf)
Tom Arnold (ODL Frankfurt am Main)
Oliver Beckenhaub (ODL Frankfurt am Main)
Martin Klein (ODL Cologne)
Dirk Döring (ODL Munich)
Anselm Hannemann (LabUp!)
Andre Jay Meissner (LabUp!)
The agenda was packed. So, after a short welcome by Joschi Kuphal, and all attendees quickly introducing to each other (we also met large parts of Joschi's agency Tollwerk and even their families that morning! :)), Tim Schikora jumped right onto the first item on the agenda and introduced the attendees to the "Business Model Canvas" (BMC).
Getting on one page
Tim briefly talked about the interesting concepts behind the Business Model Canvas; and we all agreed it is not possible to fully accomplish that method within the given time. But this has not been our goal, nor to define a "business case" or to match the BMC and it's verbiage ("Customer", "Revenue") to a -generalized- definition of an Open Device Lab. We simply attempted to sort out and define the typical gears and levers of the Open Device Labs present on site. To get "on one page", and sync our perceptions and brains, before we attacked the more in-depth topics ahead. And this worked too well!
We used canvanizer.com to rapidly brainstorm and then sort, assign and refine our joint definition of an ODL. Some really interesting discussions started when attendees discussed their different perception of certain aspects. Clearly not everybody had the same opinion and priorities on various topics. People said, and I agree, this discussion alone proved valuable inspiration and a great validation for each ODLs own understanding.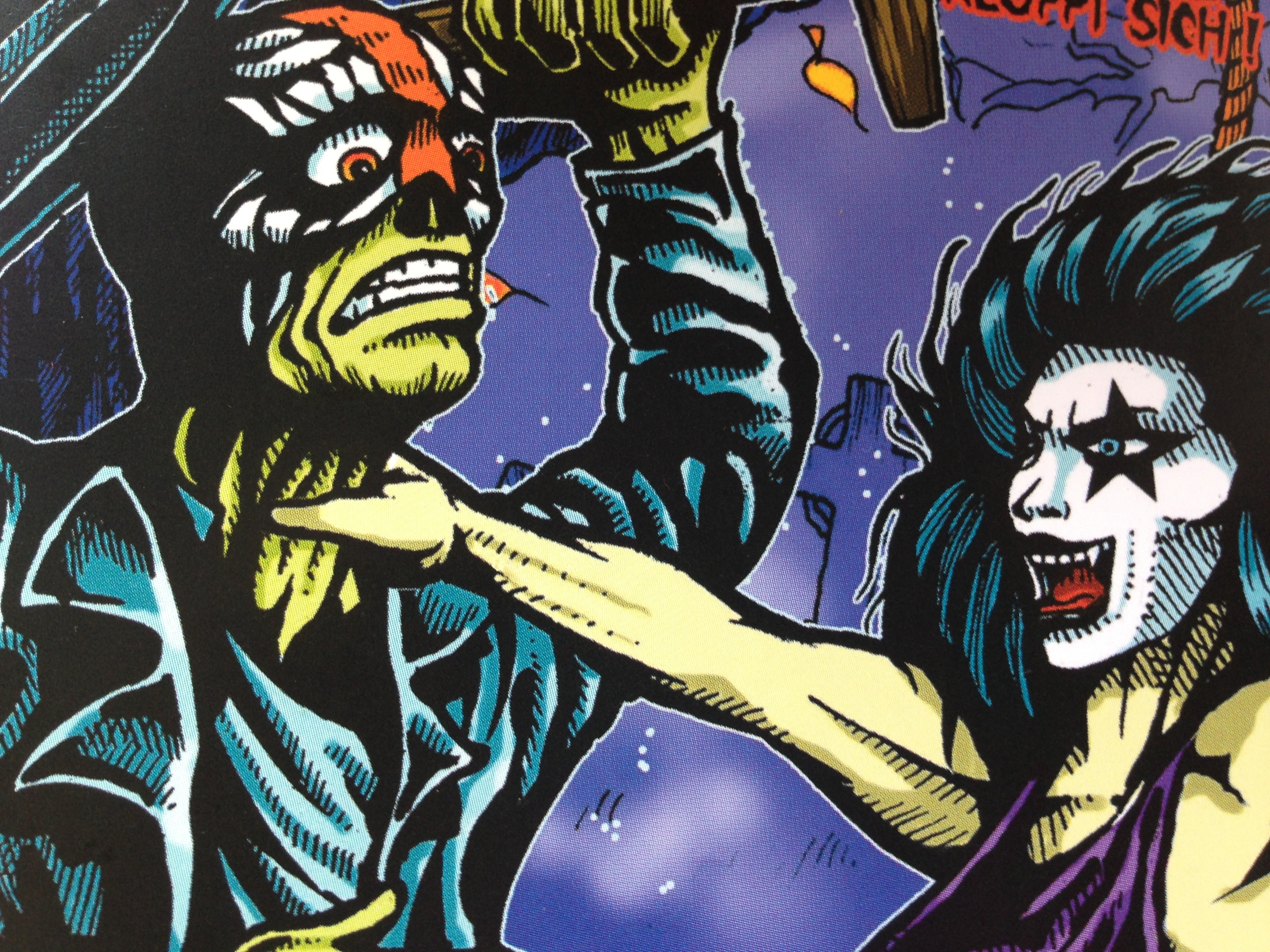 Unexpected results
Some of the unexpected insights (to only name a few):
ODL users are not only developers. We should also target our services (and thinking) on designers and conceptionists, but do not forget scientists, students, and the customers of our direct "customers" (aka the developers clients)! Is your ODL's communication and verbiage ready for that?
The benefit of "guided" testing, provided by ODL people taking their visitors by the hand, is by far not communicated enough by ODLs. Nobody else will (can?) provide such a value. Think about that!
Also, again on the partner side of the BMC, schools and universities raised inspired eyebrows: what a great potential for cooperation! Who could be a better partner to raise awareness within the future generation?
You can see the results of our brainstorming at http://canvanizer.com/canvas/51eM4BJjdOI (if by any reason this link goes away or the canvas becomes corrupted, here are backup versions as PNG and (a comparably ugly) PDF).
Note: It is important to mention that this is not meant as a "blueprint" for ODLs or necessarily applies (definitely not in all of it's details) to other ODLs (that have not been on the table that day). Anyway, it might contain useful inspiration for others. You'll sort it out.
To-Do: Centralized pool for press materials
All attendees agreed that a central pool for – creative commons licensed – press facing material, as in imagery and text copy, is needed. Attendees felt LabUp! to be the place to gather and list such material. Jay confirmed to take this on his agenda on behalf of LabUp! and follow up with a solution as soon as possible (Authors note: Speaking in the third person about myself scares me, man! Switching to first person.).
Totally running over!
The lively discussion also explains why we totally broke the agenda already with this first slot of the day, running the discussion far into overtime; even into the lunch break. Which was then held at Nuremberg's famous sausage palace "Wurstdurst" (translates best to "Thirst for Wurst").
Even post lunch we still took some time to finish sorting and discussing the canvas, only with Peter Neuberger and Veit Reichert joining in this first topic of the day was dropped to the favor of… even more definitions! Hey, we're in Germany, we like to be precise! :)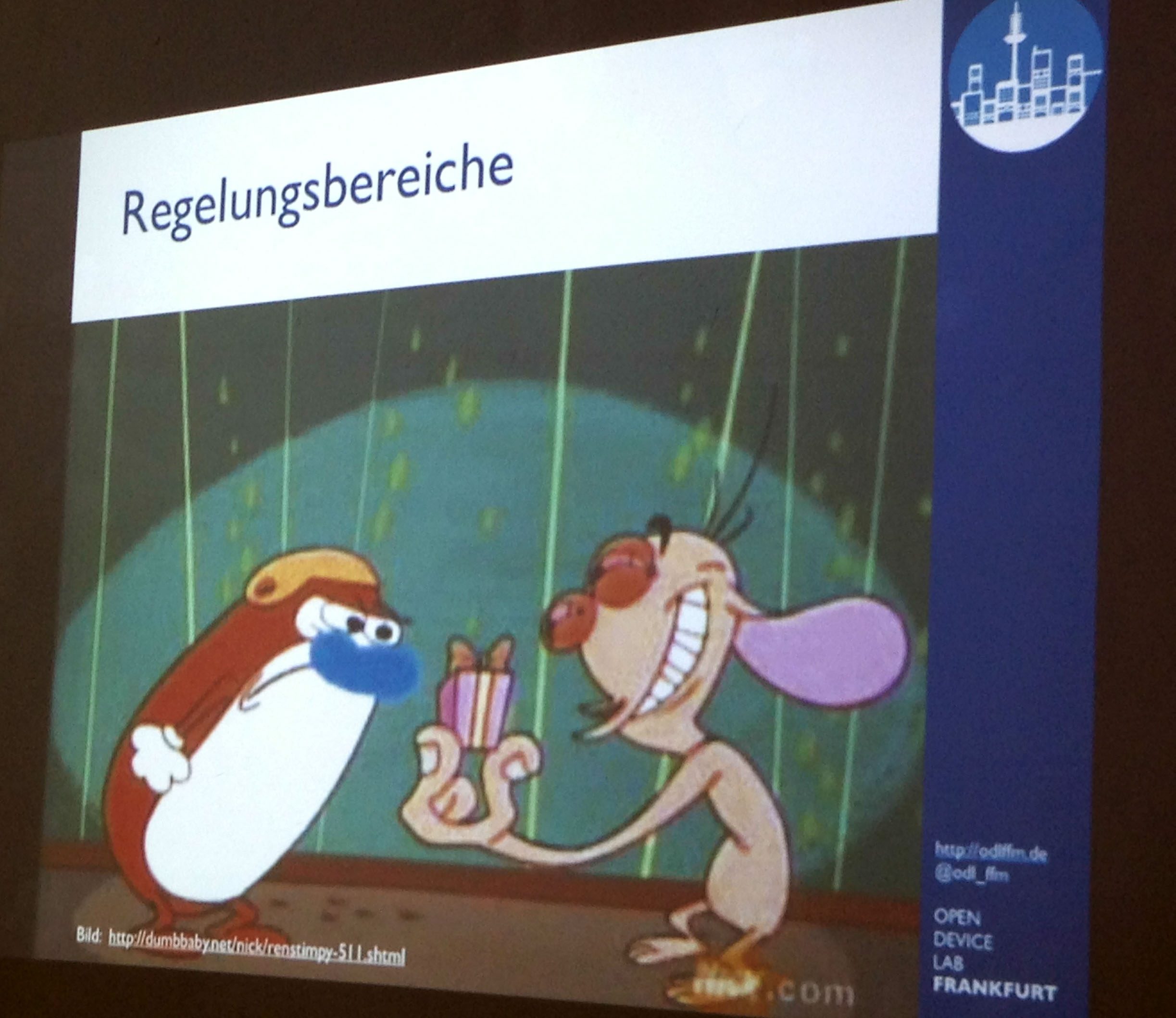 Legal aspects of Open Device Labs [in Germany]
At this point Tom Arnold and Oliver Beckenhaub from the ODL Frankfurt am Main took over and briefly explained, how they came to developing their need for written terms and conditions. Most ODLs run on a "fuck it let's do it" mentality and begin to care about problems when they arise. Which definitely guarantees for a kickstart at relatively low risk. (Authors note: with 80+ ODLs across 23+ countries by the time of writing I have not heard about anything really bad happening anywhere, to date. One total loss through theft, though. Unfortunately, burglary happens elsewhere as well. But, if that helps, I strongly believe bastards stealing a device library that is in place for the greater good will get a very special place in hell… maybe tied to the front of a WAP browser or so. I am open for your comments here).
But, well, there are risks, so let's face them.
As Tom and Oliver explained these can easily be more than just obvious concerns, such as damage or theft. Housing the Frankfurt ODL in a small digital agency, they did not have the instant okay of all non-involved co-workers in their location, to "open doors to total strangers". Discussing their ODL plans with their workmates they found there were indeed some rules needed – to define the "what if", as far as really needed, and as short as ever possible.
Tom and Oliver came up with only two half-pagers. Only! Really nothing that should scare off anybody, by having to comb through pages of legal wastelands before just quickly testing an app or web service. Two documents, because they boiled it down to one document for actual users of the ODL, and one only needed for people donating to the ODL. What fascinated me, having worked for years for my own software company together with professionals on legal documents: they accomplished this together with a lawyer, who has been keen enough to drop some of the typical theoretical concerns these guys have and simply shoot it straight. Respect! And we met that guy, that very same day:
Veit Reichert, Tom's and Oliver's lawyer for trading, corporation and IT law, took over. He summed up the path and discussions the three went down in defining the legal boundaries (and consequently built the documents) of the ODL Frankfurt am Main. As said, in favor of the brevity of their documents they boiled their concerns down to take care of the following aspects, which Veit explained to all attendees like that:
Define the parties. Basics for every contract: who is part of the game? This also means:
Definition of corporation. Are you a company? An association? A club? Will you be tax legit? Do you run in danger of becoming a telecommunications provider, with all the associated risks and duties (make sure you don't!)? Stuff like that. Realize the gears and levers simply to be able to act consciously – without getting scared.
Define the state of devices. Physically (e.g. when it comes to damage), but also virtually (e.g. when somebody is running unwanted irreversible software updates).
Define "usage". Besides defining the scope of what you allow people (not) to do, seriously take the possible abuse of your devices and/or internet uplink into account. At least in the EU the liability for what users do over a device and/or internet uplink is with the owner of that device/uplink.
At this point, Martin Klein of the ODL Cologne contributed that they have the practice to keep a record of which device in which time window has been used by which user. By using a physically separate uplink they separate their own company's internet activity from the ODL network usage. Combined, they've done already a lot to fence themselves off any possible abuse through ODL users.
Data. Are we responsible for any data left on devices? No, we are actually absolutely allowed to delete it! But we also request that the user deletes it, leaving devices in the state where these have been found.
Liability. (device-, data-, personal-) In the Frankfurt case, ODL users should not have the highest possible liability over devices let as it is defined by the (German) law when nothing else is defined. ODL_FFM decided to limit the liability to the really anticipated amount. They just did not want to scare off everybody by default. You could decide differently, but if you don't, be aware of what that means in your geo.
Termination. Frankfurt wanted to have the right to terminate the contract at their free will, at any time. Just a general precaution so nobody can control the duration and extent of the contract. Pro-Tip: ask a lawyer for deeper explanations on that. :)
Define ownership (donator document only). A very interesting idea for ODLs to not even need to think about tax and other legal implications can be to just don't own. As long as you define that everything that came in has been lent, you don't own anything. Not owning means having no taxable body. Think about it. Veit pointed out that, depending on your local law, it might be wise to just use imprecise verbiage in your communication (e.g. the origin column many ODLs use on the device lists of their websites). As examples, better use "contributor" when you specify the origin of a device, as compared naming it "sponsored by" or "donated by" – this way you simply did not define the owner (publicly), or a transfer of ownership, at all. Clever lawyer? Yes? :)
Again, these can only be indicators for running down your very own laundry list of defining the legal boundaries of your ODL, in your country, in your very own universe. Veit, just as every lawyer, of course did not leave the room without claiming the respective disclaimers :) – and I won't, as well. Nevertheless, both the Frankfurt and the Cologne ODL are making their documents accessible as public domain. You can grab their stuff for free – just make (the fuck) sure to consciously adopt them to your scenario!
The Frankfurt ODL wrote a blogpost that also links to their documents. (Blogpost in German, so are the documents.)
[As a side note, there are English "Terms and Conditions for a Device Lab" based on the US law made available publicly by Phil Weiss, for over 10 months already. These definitions do not follow any of the aspects or the route discussed above, nor do they apply to Open Device Labs (since they rely on a monetary return value for using the lab). I just thought I'd mention there are some English materials, in case you want to start working on your own documents with invoking a proper law consultant. Again, do not simply copy any of this stuff. K?]
It got late, dood!
At this point of the day, where the sun has already been down and all previous ideas of having an agenda were long outdated, we decided to drop the plan and try to go through the most important remaining items that have been suggested by the attendees on the Google group used to plan the meeting. We decided to drop the discussion about the possible need of an "ODL certification concept / procedure" in favor of the two other remaining sessions: "How to increase ODL visibility & visitor frequency" and "Involving donators, supporters & hardware vendors". Which had initially been set with a total of 2.5 hours, but now needed to go down in less than an hour. Fun! :)
Focussing on the best practices
Having boiled down the sessions to a fraction of the time I decided to simply run down the inspiration and examples I collected on general ODL PR best practices, including quite some tips to become more attractive to sponsors. Here's what I talked about (please note that for nearly every example shown there are others at least as good as the "chosen ones". I clearly do not intend to over-/underrepresent one or the other ODL with this. ):
PR inspiration: If there are local events important to your target audience, and you cannot make it over there to run a conference ODL or present your ODL via a (short lightning) talk yourself on the event, at least get into the events timeline:
Just send a tweet with the appropriate hashtag and greetings and invite over attendees to test at your ODL!
Follow tweets of event attendees and find those where your ODL makes sense to be suggested as solution to problems discussed at the event.
Simple stuff like this can easily reach hundreds of people. Examples shown:
Inspiration to maximize reach: If your premises allow, invite local (not only tech-!) meetups to run their events at your ODL. Present your ODL as a side gig.
Inspiration to gain traction: Why not organize an info event at the ODL, e.g. to a specific audience, such as digital publishers, and show them the ups/downsides of their industries work on your testbed. It is easy and fun and can be very rewarding to leave your usual dev-trails that way!
Leverage opendevicelab.com ratings/comments to demonstrate the vibrant community that is using your ODL to sponsors. Make sure to add a backlink to your profile and to actively ask your users to rate/comment!
Ask your users (and their customers!) to mention you and/or leave opendevicelab.com comments/ratings, to gain traction in new circles. Also, make sure your ODL is a cute foto model (see the following tips)!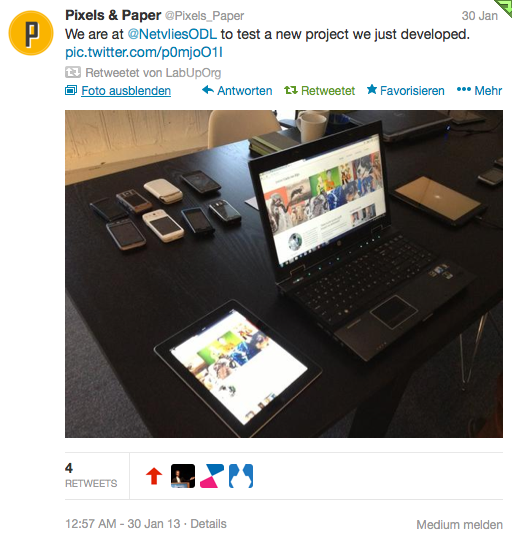 Ask your users to inspire their customers to spice up their press releases with that interesting testing story (and make sure to shoot/deliver some jawdropping pictures!). Really easy to reach a whole new audience that way!
A creative decoration of your ODL does not need to be expensive and holds a lot of potential for visually engaging social posts. Use that potential!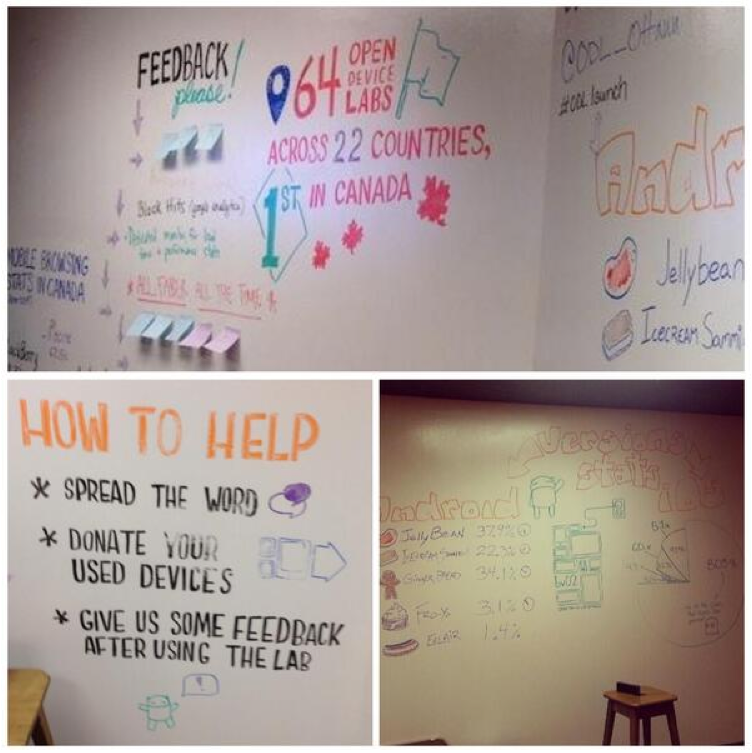 Leverage your decorative visual highlights on your own and create and post some unusual pictures that leverage viral potential by "wowing" people!
Be creative in contacting sponsors! Example: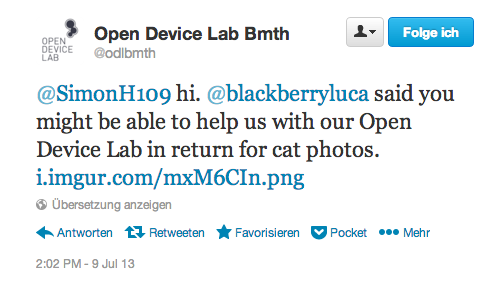 Honor your sponsors, also via social media. Two examples: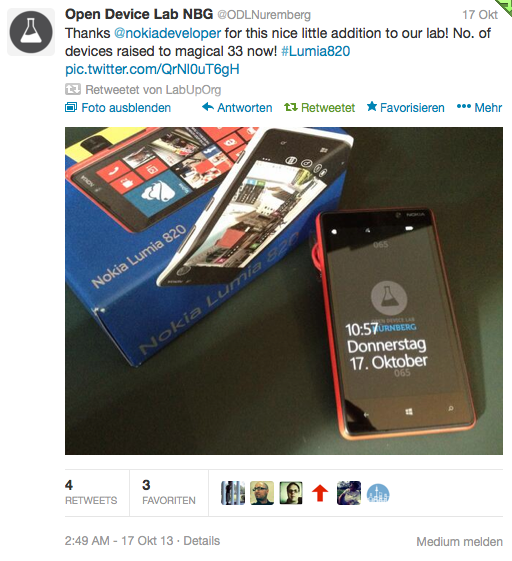 A video says more than 1000 words. Think of producing a quick and short video explaining your ODL and offering. It is easier than you think, and there are inspiring examples out there already! Here is a great one, made by the Rio de Janeiro deviceLab: https://vimeo.com/56758941
Leverage your video to pitch your ODL in a (~5 minutes) "lightning talk" at the rather unusual events, e.g. at a local SEO, Marketeer or Startup Meetup. By using a video and just saying some intro words and inviting people to support and visit the lab and ODLs, you really don't have to have speaking talent and still will reach a bunch of new people at the price of a bus ticket and a burrito + beer. :)
Marc Thiele of the Dusseldorf ODL added, that he contacted all local official departments to explain what his ODL is exactly doing for the community. He received very interesting feedback from quite some unexpected areas, such as being put in touch with the local representatives of Mobile Monday to connect and present his ODL to their members. A nice idea and disruptive path to go down, IMHO!
The recent ODLC launch activities – and their successes so far
As many ODLs ask themselves how to promote their lab better, Martin Klein from the ODL Cologne apparently did a very extensive job in doing so for his newly opened ODLC with pretty good success (check out the services and activities described on their website for yourself – again, German, sorry, learn German :) or use a translator please!). He agreed to quickly present details on his launch activities. I can only list his explanations briefly here:
ODLC launched in July 2013 by putting the website and opendevicelab.com announcement out. For 6 weeks basically nothing happened.
Around September traffic picked up.
Today, in November, they receive 3-5 inquiries a week.
There are 2-5 appointments made per week.
Last Wednesday ODLC had 3 users on one single day.
Here is what Martin did:
2 professional press releases distributed via a paid PR agency (cost: €250).
This returned 300-400 unique website visitors per release.
Martin promotes the service locally via http://www.plista.com/.
Had a pool of banner ads created and run a paid search campaign.
Ran a professional photoshooting (short and efficient, cost: €150).
Produced small comics "out of the ODL life", and uses those to post and generate buzz via their Facebook page (which works exceptionally well across non-experts).
Invited two times already on a meet & greet in the ODL, served fingerfood.
Closing the day like a greek
With that, we closed the very first ODL admin meetup with a handful of attendees wrapping up the day at one of the best greek restaurants I've ever been to (outside of Greece). Everybody agreed that this should just be a start of a series of networking events between ODL managers. Even after nine hours of exhausting work (yeah!), we clearly felt there is still a lot potential to be discussed and improved.
Thank you!
Special thanks to Tim Schikora, Veit Reichert and Peter Neuberger for their very valuable help. Thanks to Ingo Kasch for brewing some bad ass (insider joke! :)) coffees. And of course thanks a lot to Marc Thiele and Joschi Kuphal for all the spirit and work in organizing this event. Finally huge thanks to all attendees of this first ever physical ODL Admin Meetup for all their contributions. Last and totally not least: to you, dear reader, for your interest in Open Device Labs – and for reading this far.